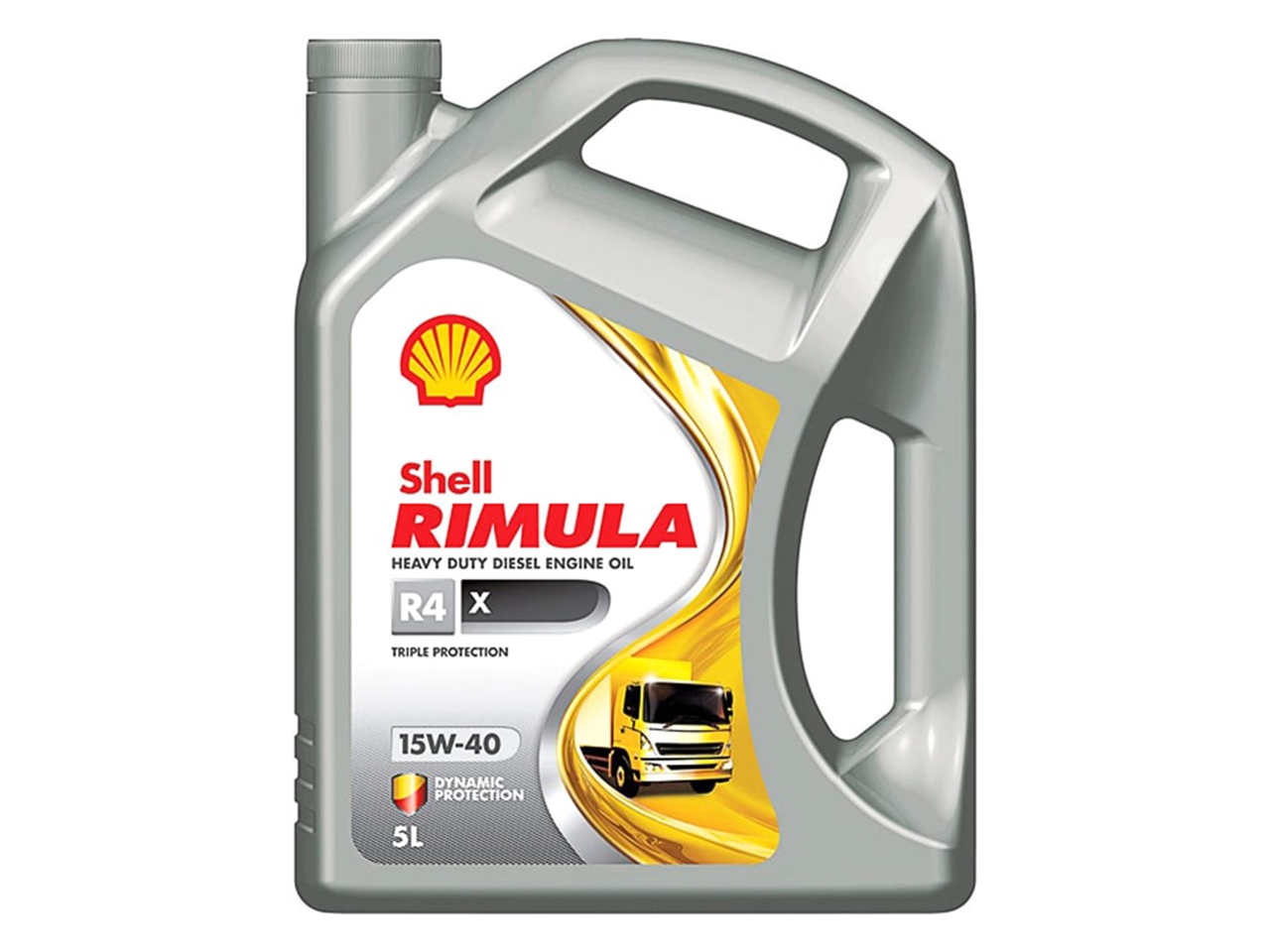 Description
Heavy Duty Diesel Engine Oil Shell Rimula R4 X is designed to provide Triple Protection to improve engine and oil durability.
It helps to lower maintenance and increase reliability of vehicles. It's suitable for most heavy-duty diesel engines for on and off highway applications.
Applications:
Severe duty heavy duty diesel engines - Shell Rimula R4 X provides demonstrated protection and performance in the latest high power heavy-duty diesel engines from European, US and Japanese manufacturers in both on-highway and off-highway applications.
Shell Rimula R4 X is suitable for most modern low emission engines meeting Euro 5, 4, 3, 2, and US 2002 emission requirements. Shell Rimula R4 X is suitable for use with biodiesel per the OEM recommended oil drain intervals.

For the latest low emissions engines especially those fitted with exhaust diesel particulate filters (DPF), we recommend the use of our low-emissions products, Shell Rimula R4 L or Shell Rimula R5 LE
Shell Rimula R4 X shows excellent control of acids by reducing the accumulation of acids and chemical corrosion of engine bearings. Harmful acids from fuel combustion are controlled by using selected detergent additives to neutralise them and help to prevent corrosion of metal surfaces.
Shell Rimula R4 X offers high levels of engine wear protection in the critical areas of the valve train, piston ring and cylinder liners. This wear control is achieved through the addition of anti-wear additives that are designed to form protective films in metal-to-metal contacts when needed under different engine operating conditions, and by the use of soot dispersant additives to keep soot particles finely dispersed to help prevent wear
Shell Rimula R4 X helps to prevent oil thickening and the formation of harmful deposits in all areas of the engine, including sludge and piston deposits. The optimised detergent and dispersant additive system for Shell Rimula R4 X keeps engines cleaner than previous-generation Shell Rimula R3 products.
Downloads - Shell Rimula R4 X 15W-40 CI4 E7 DH1 engine oil 5L
Shell
Shell Rimula R4 X 15W-40 CI4 E7 DH1 engine oil 5L
Part#/SKU: 550044644
API CI-4, CH-4, SL
ACEA E7, E5, E3
Global DHD-1
Caterpillar ECF-2, ECF-1A
Cummins CES 20078, 77, 76, 75, 72, 71
Detroit Fluids Specification 93K215
Deutz DQC III-10
Iveco T1 - Meets the requirements· JASO DH-1
Mack EO-N, EO-M Plus, EO-M
MAN M 3275-1
MB-Approval 228.3
MTU Category 2
Renault Trucks RLD-2
Volvo VDS-3
Case New Holland MAT 3520 (meets specification)
Product Enquiry: