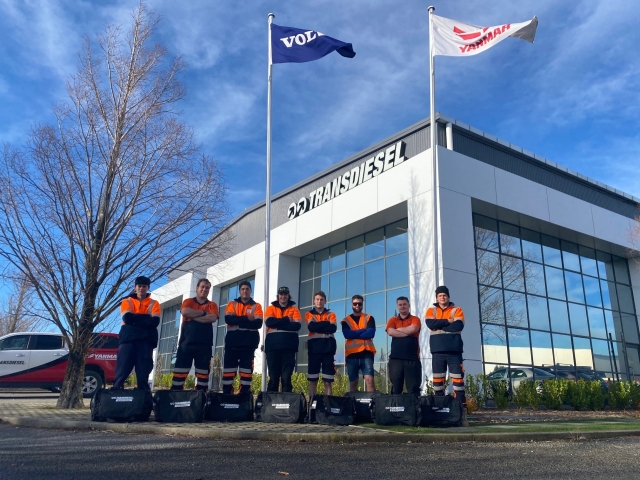 When more than 280 people apply for only a handful of apprentice positions, one thing is for sure - you're going to have a hard time deciding who to accept.
This was the dilemma facing TDX, a New Zealand owned and operated heavy equipment business, when they advertised a number of apprenticeship positions recently.
After reviewing the calibre of applicants, the team decided to expand the intake by 60% and offered eight young people the opportunity to join TDX.
"As a Kiwi owned and operated business, TDX is making significant investment in the future prosperity of the industry and people associated with it," said Joe Gradwell, General Manager, Aftersales Operations.
"It is a difficult industry to break into, so we wanted to acknowledge the demand for places and open up the numbers of positions available.
"The talent of those applying was so high that we decided to almost double the intake, which also demonstrates TDX's own dedication to nurture local talent."
First established in 2020, the programme will see the annual intake work throughout the business over three to four years, undertaking a variety of tasks and theory-based learning.
A specialised Learning and Development team oversees the apprentices as they make their way through the business while National Service & Technical Support Manager, Andrew Hodgkinson, oversees the apprenticeship programme.
He does this with the support of experienced subject matter experts who are given the opportunity to mentor new talent, which in turn brings fresh ideas and innovative thinking into the business.
This combined approach ensures that all types of learning styles are supported to achieve and complete the apprenticeship programme, and that mentoring and guidance is provided from a wide range of stakeholders.
At the end of the structured training programme, which is aligned to a national qualification (in partnership with MITO), successful apprentices will receive a Trade Certificate recognising them as a Heavy Equipment Qualified Technician.
In addition to technical aspects of the programme, apprentices also have the opportunity to participate in learning relating to Wellbeing and Nutrition, as well as Customer Service training, all of which help contribute to a more holistic workplace experience.
Over time, career pathways can lead to a number of areas across TDX such as Sales, Management, Product Support or other technical subject matter expert roles.
Applications for the 2021 intake were received from all around the country, with the latest round of eight successful candidates meeting in Christchurch for regular TDX training.
The apprentices then return to their respective home base, where they are employed at the local TDX branch and receive further on-the-job training.
"As a New Zealand owned success story, TDX recognises the importance of growing local talent to support our future workforce and are passionate about providing professional career pathways for all staff," said Mr Gradwell.
"Investing in the future of so many young Kiwis through the apprenticeship programme is another example of one of the many ways that TDX has your back."
A short video about the TDX Apprenticeship scheme can be viewed here:
TDX Apprenticeship scheme - YouTube