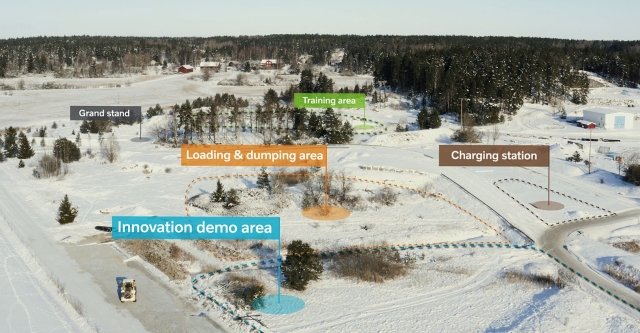 Volvo Construction Equipment (Volvo CE) is distinguishing itself in the construction equipment industry by building the world's first test & demonstration area for electric autonomous transport solutions at its Customer Centre in Eskilstuna, Sweden.
Construction has already begun on a brand-new area at the Volvo CE Customer Centre in Eskilstuna, Sweden, dedicated to testing and demonstrating the latest innovations in sustainable power, connectivity and autonomous solutions.
This 66,000m2 innovation zone will include a secure track for full-electric, automated and teleoperated machines with charging infrastructures and 5G connectivity, a control and training room building, a spectator stand and training area for the Volvo Co-Pilot assist functions.
Chief among the innovations on display will be the TARA autonomous transport solution from Volvo Autonomous Solutions for defined sites, such as quarries or mines.
"We are excited to demonstrate our complete TARA solution to customers, including how to set up and run the site, how to charge and store the TA15 electric autonomous haulers, and how we manage the control room and surveillance operations – everything in a brand new state-of-the-art facility" explains Calle Skillsäter, technical specialist in connected machines at Volvo Autonomous Solutions.
The secure track will also showcase remote-controlled machines, which are likewise ideal for working in quarries or mines, using two teleoperation rigs installed in one of the control rooms. Another of the control rooms, meanwhile, will demonstrate in real time how the company's uptime and productivity services can reduce customers' total cost of ownership and operation.
"This is an important strategic investment, not just for Volvo CE and Volvo Autonomous Solutions but the entire Volvo Group – and is proof of our commitment to drive sustainability through innovation. We are looking forward to welcoming visitors to this world-class facility and allowing them to experience exactly how we are building tomorrow," says Carl Slotte, Head of Sales Region Europe & International at Volvo CE.
The new innovation area is expected to open by autumn 2021 at the latest.